Friends Scheme
Home >
Friends Scheme

If you visit the Amazon website by clicking the link, we receive a small donation for any purchases made. Thank you for your support.


All Saints Tower being inspected.
Masonry damage around guttering.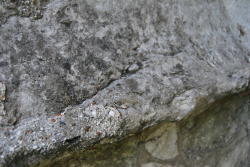 Surface of Tower stonework crumbling.
HISTORIC BUILDING - AT RISK - NEEDS FRIENDS
In October 2014 we secured £216,500 in funding from the Heritage Lottery Fund towards the £331,000 costs of restoring the church Tower. After twelve months of work, the restoration of the church tower was completed in February 2016. Now we urgently need to repair the church roof. This is also likely to cost in the region of a third of a million pounds. If we can fix the roof, then All Saints will no longer be a building at risk. If you can help with this, please do consider joining Friends of All Saints Edmonton.
All Saints is an Historic Building.
A Grade II* Listed Building – which places it in the top 10% of all listed buildings in terms of importance and value. Dating back to the 15th century the present church but contains some fragments from the original 12th century building. Among the impressive monuments in All Saints, there are memorials to the poet William Cowper, the essayist Charles Lamb (who is buried in the churchyard along with his sister Mary) and Edward Latymer, founder of The Latymer School.
All Saints is At Risk.
In 2009 an architect's inspection of All Saints revealed that 'the main roof coverings… require major repair' and 'the tower stonework is in poor condition… and a major repair programme is now needed'. In 2010 All Saints was placed on the Historic Building at Risk Register. Today the church roof often leaks badly in several places when it rains.
All Saints needs Friends.
Year after year All Saints welcomes thousands of people through its doors, many of whom are occasional visitors who have a great deal of affection for a church which has an important place in their lives. If you are one of those people for whom All Saints, Edmonton is a special place, we are asking you to help us to maintain our church for the generations to come. We can't do it on our own. We need friends.
Ours is not a wealthy area. CAN YOU HELP?
For £10 a year you can help us to restore All Saints and to maintain it for the future.
Joining the Friends of All Saints Edmonton:
We are currently investigating a new on-line donation facility that you can use to join the Friends Scheme. In the meantime, please download our application form and send it to the following address, along with a cheque for £10 made out to Friends of All Saints Edmonton.
FOASE
All Saints Vicarage
43 All Saints Close
Edmonton
N9 9AT
Please note that the Friends' terms of reference states that the money raised by the scheme will be used 'solely for the restoration, maintenance or improvement of All Saints Parish Church'.
A one-off donation to the Friends of All Saints Edmonton:
You can obviously also make a one-off donation by sending a cheque, made out to Friends of All Saints Edmonton, to the same address.
Welcoming our Honorary Patrons.
On 30th July 2013 the Bishop of Edmonton and the MP for Edmonton came to All Saints to be welcomed as the Honorary Patrons of the Friends of All Saints. You can see coverage from the local press by clicking on the links below:
For more information please contact FOASE@allsaintsedmonton.org.uk