Restoration
Home >
Restoration

If you visit the Amazon website by clicking the link, we receive a small donation for any purchases made. Thank you for your support.


All Saints Tower being inspected.
Masonry damage around guttering.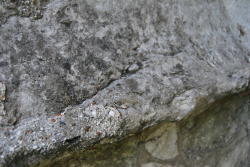 Surface of Tower stonework crumbling.
Restoration
For up to date news and pictures relating to the restoration of All Saints, make sure you visit: THE RESTORING ALL SAINTS EDMONTON FACEBOOK PAGE.
A character appraisal of the Church Street and Fore Street Conservation areas in Edmonton, commissioned by Enfield Council in 2009, reported that: 'The key to the character of the area is All Saints' Church, a building of medieval origin whose 15th century tower... represents the ancient heart of Edmonton…'
According to the 2009 Quinquennial Inspection prepared by Mr Colin Kerr BA BArch DipCons (ICCROM) RIBA, SCA: 'The structure of the building as a whole seems sound and there are no worryingly significant cracks, distortions or settlement. The interior is generally also very good but the main roof coverings, gutters and weatherings (including tower roof and parapet) all require major repair. Most significantly, the tower stonework is in poor condition, particularly at the upper levels and a major repair programme is now needed to deal with this.'
All Saints was placed on the English Heritage Building at Risk Register in 2010. The 2012 Register describes the church as in "Very Bad" condition and states: "Following a very bad winter; the tower stonework and roofs are now in a very poor condition".
If you would like to know more about the restoration project at All Saints, would like to offer your support, or would like to visit to see exactly what we need help with, please contact the Vicar, Revd Stuart Owen.
Thanks to a £216,500 grant from the Heritage Lottery Fund towards the £331,000 costs, work began on restoring the church Tower in February 2015. The restoration took a year to complete, and you can find out more about this project by visiting:

We now need to begin the task of raising money to repair the church roof. If you would like to help with this, please do consider joining Friends of All Saints Edmonton.